A Man on A Mission
Vinod has dedicated his life to his cause. Whether it be teaching a friend or creating awareness within the community, he considers each small act one step closer towards his dream of creating a secure online environment. This kindled his spirit to teach the younger generation and propagate his knowledge to his peers. He started out by teaching students and professionals from colleges and corporates across India. He has trained over 60,000 people in person in these institutions. Then, the thought struck him that he could reach even more people online.
As of May 2020, Vinod is the author of 13 widely subscribed online courses on cybersecurity. Online, Vinod's tutorage has had a wider impact. In the ten years since he first established infySEC, he has tutored over 10 lakh personnel. One could easily find him on leading online certification platforms such as Udemy and Simplilearn. Hacking defines who Vinod is and he simply enjoys imparting his knowledge onto others. Through his work, explicitly and implicitly, he has transformed the lives of many and is elated to continue doing it.
Vinod's Accolades
Vinod has a number of accolades to his name but chief among them and those of which he fondly recalls are three instances of him being appreciated by global leaders for pursuing his passion in cybersecurity. 
Vinod has been congratulated personally by David Filo, co-founder of Yahoo! for his contribution to improving the cyberspace.
For his exceptional bug detection skills and exemplary work towards aiding security, he was congratulated by Bill Gates, co-founder of the Microsoft Corporation.
In recognition of his contributions to the government, Vinod was congratulated by Mr. N. Rangaswamy, the Ex-Chief Minister of Pondicherry.
Dignified Speaker at Cybersecurity Conferences, TEDx Organizer, Educationalist, and Cybersecurity Consultant.
Vinod is one of India's most recognized and accomplished cybersecurity experts. He has immensely contributed to the security of the cyberspace by assisting countless corporations, and governmental organizations. He currently holds 13 world records for conducting the largest information security gathering for the longest duration. He is highly sought-after in the industry for his mastery over identifying and developing effective counter-measures against sophisticated hacking. He has conducted several awareness drives in collaboration with the government and media and has multiple accolades to his name. 

Vinod's cybersecurity expeditions span over 15 years, in which duration he has built infySEC, a firm that initially began by offering cybersecurity training. It then grew into a cybersecurity consultancy firm for multinational corporates and cyber defence wings of various governments. Finally, infySEC evolved into a firm that develops futuristic cloud-based cybersecurity products whose clients range from Startups and MSMEs to Fortune 500 companies.

Vinod always had the vision to fortify security in the cyberspace. He says that there are two kinds of people in the world. Those who know that they have been compromised and the others who are oblivious to the fact that they've been compromised. Vinod's work essentially tries to educate people enough for them to safeguard themselves from malicious hackers.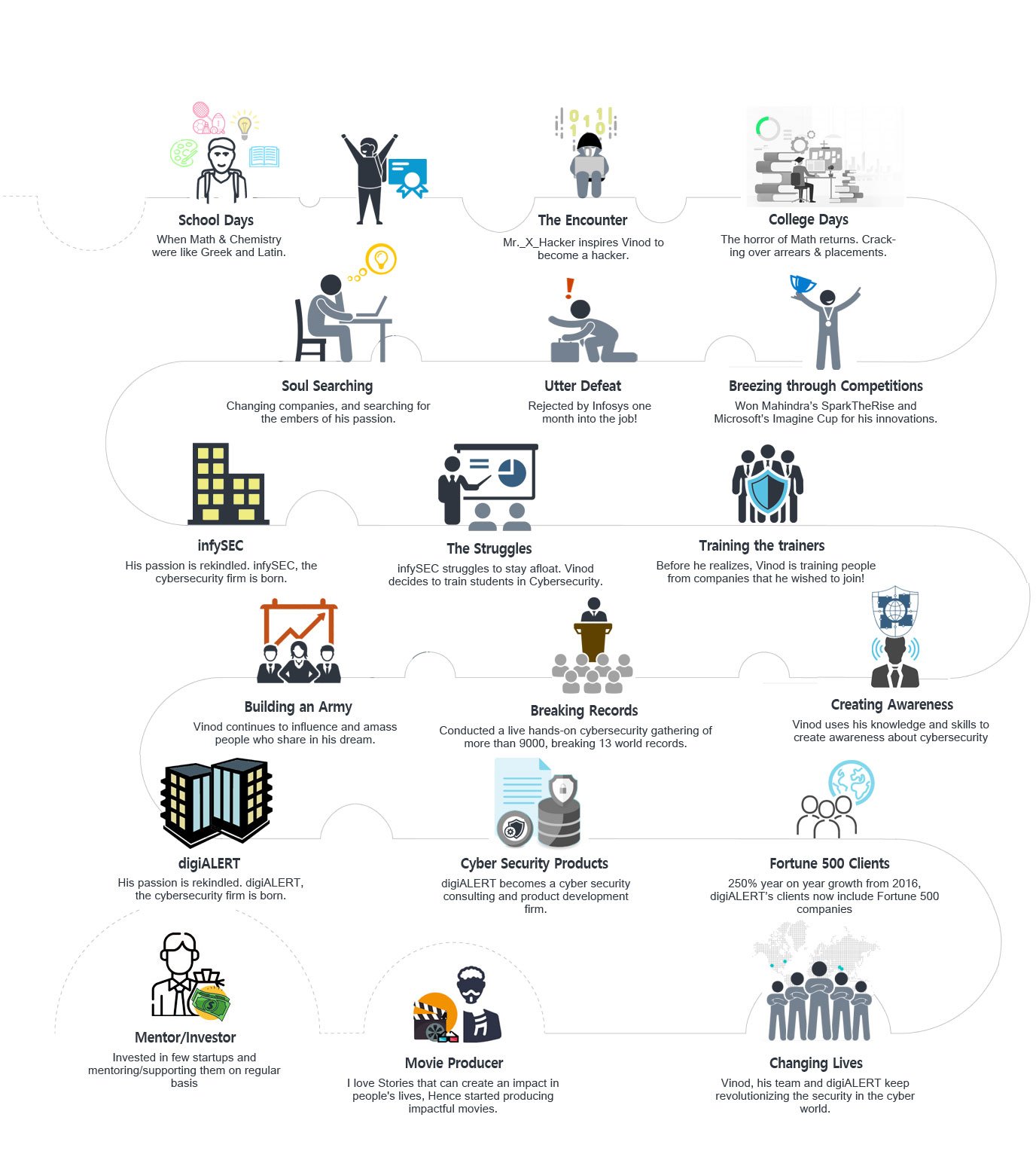 Check Out Vinod's Online Courses
Unravelling His Life
Vinod Featured on Cybersecurity Talk Shows & Awareness Programmes & News
Vinod has been featured in several online and media channels where he demonstrates what it means to be a hacker and the hacked. He has collaborated with NDTV in the past to illustrate wardriving and credit card skimming to help curb cyber thefts. He has also regularly appeared in 'Cyber Thirai,' a program on Puthiya Thalaimurai, a leading South Indian news channel. The program ponders on the measures one should take to protect themselves from cyber assailants.
Vinod is an inspirational speaker who has been detrimental in clearing the misconceptions about hacking and cybersecurity. His online interviews and speeches on YouTube channels like Tech Talkies, Josh Talks, SAM Talks, and LIFANTASTIK among others give a general overview of what cybersecurity is, what he's been doing so far to improve the space and the current trends in cybersecurity.